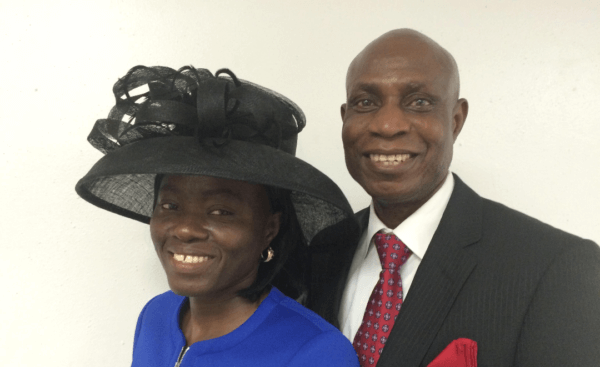 Pastor Bimpe Zacchaeus Okanlawon gave his life to the Lord in a crusade in 1977 in Nigeria. He joined the Redeemed Christian Church of God in 1995, he became a worker and minister in 1997 and 1998, respectively. He obtained his Bachelor of Science degree in Mathematics and Education from the University of Jos, Nigeria (1991). He also obtained his Master of Business Administration from the University of Ado-Ekiti (2000) and Masters in Math. Education, University of Ibadan (2002), Doctor of Ministry from RCCGNA Seminary. He taught briefly as a Math teacher at Government College, Ibadan in 1992, before taking up appointment with the Federal Inland Revenue Service as Inspector of Taxes. He was an Associate member of the Chartered Institute of Taxation of Nigeria (CITN).
He rose to the rank of Principal Inspector of Taxes before he personally resigned to relocate to the U.S. in August 2007. Pastor Okanlawon answered the Pastoral call in 2004 when he was assigned to pastor RCCG Liberty Parish Oke Ado Ibadan, Nigeria (2004); he was also the pioneer pastor of RCCG Amazing Grace, New Adeoyo, Ibadan, Nigeria which he pastored till his relocation to the U.S. He started RCCG Restoration Chapel San Antonio in June 2010 where he has been serving to date. He is still a Professional Chaplain with the state of Texas. Pastor Okanlawon is a Teacher of the Word, and his passion is missions; he loves music and he is given to prayers.
Pastor Victoria Okanlawon, a partner in the ministry with her husband is a Nurse by profession. She gave her life to the Lord in 1990 while in the Nursing school. She obtained her RN, RMW (registered midwife), PHN (public health nursing), Bachelor in Health Education from the University of Ibadan, Nigeria, and BSN & MSN from American Sentinel, University. She worked with the Oyo State Hospitals management board at Adeoyo Hospital, Ibadan from 1998-2007 before relocating to the U.S. She has been working with San Antonio State Hospital since 2010 and she is currently a Nurse Administrator. She is a seasoned Teacher of the word of God, she has passion for music evangelism and building the body of Christ.